CBR has 2,112 guest rooms arranged into 6 villages—Trinidad North, Trinidad South, Martinique, Barbados, Aruba, and Jamaica. These villages–all sporting different Caribbean colors–line the shores of Barefoot Bay. Each village has either 3 or 6 buildings housing guest rooms (take time to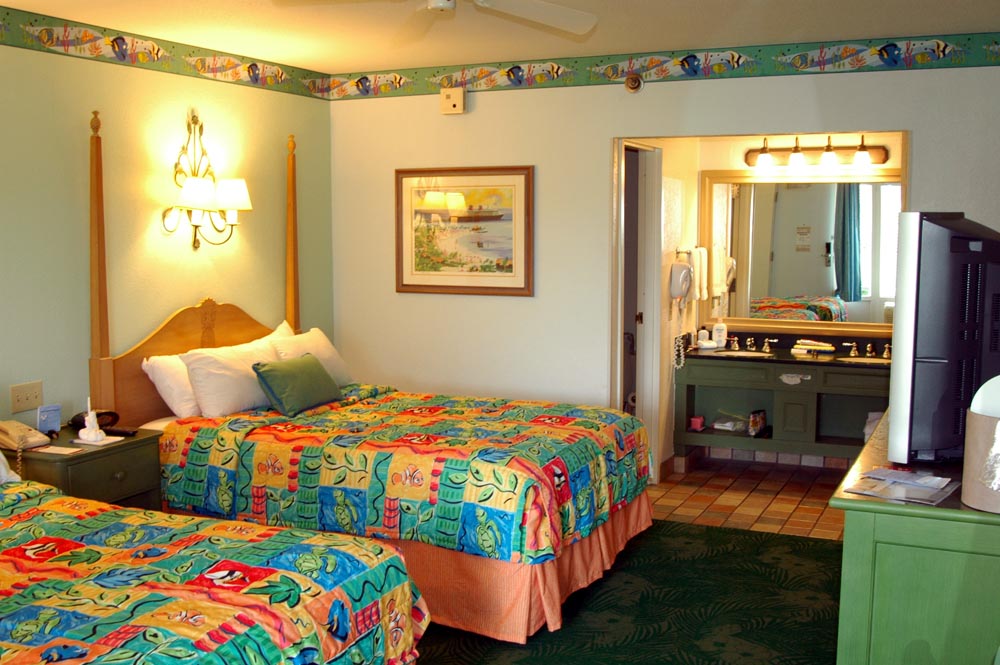 explore the villages–there are plenty of pathways, sitting areas, and little surprises!).
Disney has just updated all of the rooms at CBR with new bedspreads, curtains, and room borders subtly representing scenes and characters from Disney/Pixar's Finding Nemo!
Also, CBR Pirate-themed rooms, based on the Pirates of the Caribbean films! These will cost you $25-50 extra, but are exciting for those pirate fans!
All rooms are non-smoking and measure about 340 sq ft. The maximum number of people in a room is four (a fee of $15 per extra adult is charged if you have more than 2 adults in a room). Wheelchair accessible and connecting rooms are available. All rooms include:
Either two double beds or one king
A small safe for valuables (keep larger valuables with the front desk at The Custom House)
A fridge
A coffee maker with coffee
An ironing board and iron
A hair dryer
Cribs and cots are available for a small fee.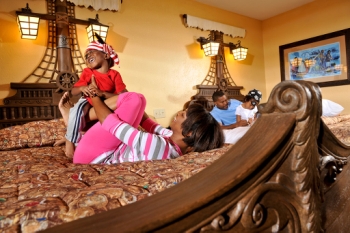 PREFERRED, WATER-VIEW, AND PIRATE-THEMED ROOMS
There are a few "special" rooms at CBR that you can pay extra to get. $25 extra will buy you a "preferred" room, a "water view" room, or a "pirate-theme" room. $50 extra will buy you a "water-view, pirate-theme" room!
WHAT ARE THE BEST ROOMS?
What makes a good room at CBR tends to be proximity to Old Port Royale, where you find the food court, shops, and main theme pool. The buildings closest to OPR, in order, are:
Martinique (preferred) 26, 25, 24
Trinidad North (preferred) 31, 32, 33
Jamaica 45
Aruba 51
The villages of Barbados and Trinidad South are the farthest from OPR, but CBR does provide an internal bus system between the villages and OPR. See the CBR Map for more info about certain buildings' proximity to Old Port Royale.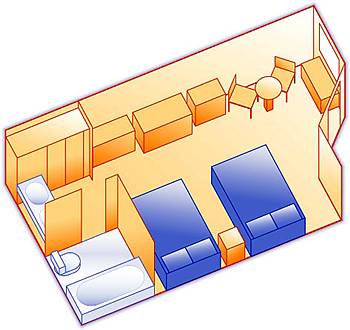 Proximity to bus stops might also be a factor in what makes one room better than another. If you know you'll be hitting the parks with Disney Transportation every day, bus stops are located here:
Old Port Royale Centertown
Trinidad North: by building 33
Trinidad South: by building 36
Jamaica: by building 46
Aruba: by building 56
Custom House
Barbados: by building 13
Martinique: by building 23
As far as village themeing, it's really up to you what you like best. All of the villages have different colors, somewhat different architecture styles, and generally different feels to them. We love Martinique and Jamaica, but your favorite might be Aruba! Check out our villages pages to determine what might be best for you!
PRICING
Disney has broken the year into "seasons" (Value, Regular, and peak holiday seasons) based on demand for rooms. The higher the season, the more your room will cost.
Caribbean Beach Resort is one of Disney's moderate (mid-priced) resorts, and standard rooms during value season start at $149/night. The highest rate you'll pay is $274/night for a pirate-theme, water-view room during peak Christmas holiday season.