Old Port Royale Food Court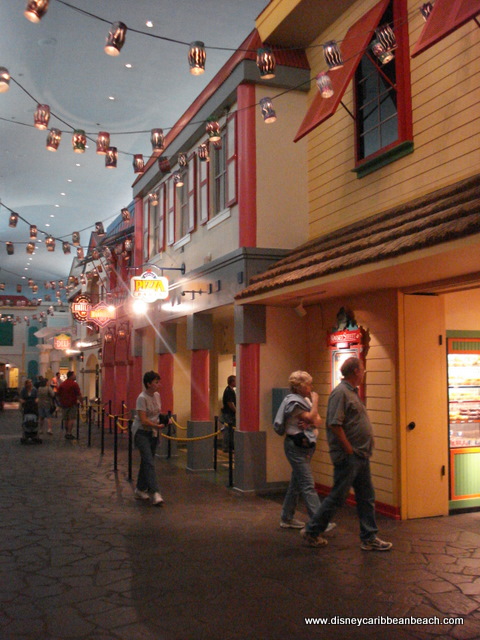 Where will you go on market day?
Colorful and exciting, the Old Port Royale Food Court is set up like a Caribbean port town market, and offers a wide variety of foods and flavors to try. But you're still in Disney World, so you'll find things to favor every palate. Stroll down the cobblestone pathway between each "market shop" and enjoy the "blue sky" and festive lighting overhead!
The food court has several stations, each providing a different type of food. These include:
Grab n Go items: including fruit, sandwiches, ice cream, bottled beverages, etc.
Broiler: including rotisserie chicken, roasted pork, salmon, and turkey
Pizza/Pasta: including soups, chicken caesar salad, pizza, meatball subs, vegetarian ziti, and pasta with chicken
Deli: including Philly cheesesteaks, tuna salad, BLTs, reubens, and salads
Hamburger: including hamburgers, chicken nuggets, etc.
Bakery: including all types of baked goods, muffins, and desserts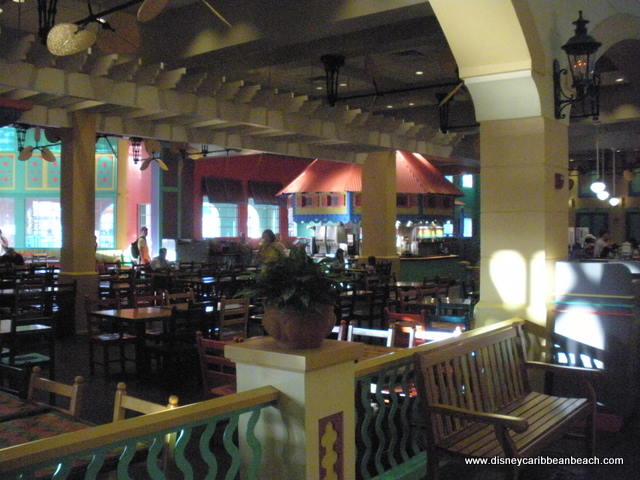 Have a seat!
The process at Old Port Royale is the same as most Disney food courts. Take your tray throughout the food court, choose your items, then pay at one of the cashier stations. Soda pop refill machines, napkins, utensils, condiments, and other necessities are available at stations in the middle of the Market Street seating area.
Ample seating is available inside, or you can take your food outside to the tables by the pool bar.
Old Port Royale is also where you pick up (and refill) your refillable mug, available for about $12.50. The mug is good for refills throughout the Caribbean Beach Resort (including the pool bar) during your stay.