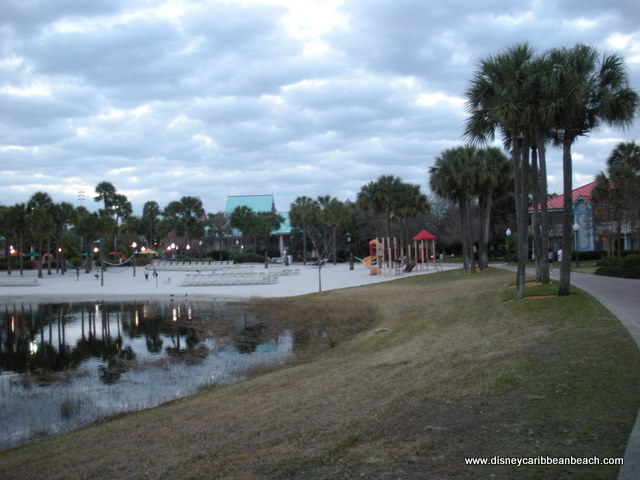 Caribbean Beach Resort is home to quite a few lovely sand beaches – which isn't surprising given the name of the resort.
But the beaches are more than just part of the hotel's moniker. They are integral to creating the tropical island ambiance of the resort and spending a day (or even half a day) at the beach should be on your to-do list when you're at Caribbean Beach.
Each of the villages at Caribbean Beach Resort has a beach on Barefoot Bay with lounge chairs, hammocks, and sand volleyball nets. Just keep in mind that there is no swimming allowed in Barefoot Bay.
We love spending time relaxing in the hammocks or beach chairs just watching the world go by. Adding a frozen concoction from the Banana Cabana pool bar is always a nice tropical touch to our afternoon on the beach.
At night the beaches of Caribbean Beach Resort are a lovely place for a stroll, especially at sunset. After dark the hotel is simply stunning and to see it from the beach is amazing.
And if that isn't enough beach for you, head over to Caribbean Cay where you'll find water front views of Barefoot Bay, sandy picnic and play areas, and a definite tropical vibe. There is also some beachfront "property" on Caribbean Cay and the kids will love the playground area.
What's your favorite thing about the beaches of Caribbean Beach Resort? Let us know in the comments !
Do you love Disney's Caribbean Beach Resort? Subscribe to the monthly Disney Hotels Fan newsletter! Join fellow fans over on our Facebook fan page and follow us on our Twitter feed @DisneyHotelsFan!