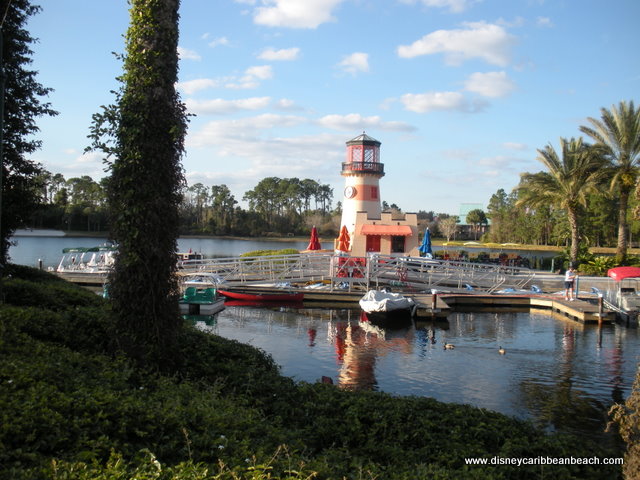 Disney's Caribbean Beach Resort has a lot to offer families who would like to hang out and spend a relax day away from the parks. One guest favorite activities is to head down to the Barefoot Bay Boat Yard and Bike Works on the lovely shores of Barefoot Bay. Within site and walking distance from the pool bar, though you may want to take the boat out before you hit the bar.
Small sailboats, pontoon boats, canoes, Sea Raycers "Water Mice" boats, pedal boats, and kayaks are just a few of rental options available at marina's across WDW property. In addition to the boat, bicycles are also available to rent at this location.
The marina on Barefoot Bay hours are 10 am to 5 pm and subject to change during busy season. All boat drivers must be age 16 or over and present a valid state Driver's License or Permit. Parent or Guardian must sign a waiver for children ages 18 or younger. Costs, guest maximums and health restrictions are posted at the marina.
Once you choose to rent your vessel, a marina attendant will help you put on your complimentary life vest, and go over how to operate the boat. Though it's easy to learn how to drive the water mice and pontoon boats, unless you're familiar with operating a sailboat it could prove more frustrating than enjoyable.
Speed governors monitor Disney boats allowing you to only go so fast. It might be a little tame for the daredevils in your party but I find it relaxing and lovely. Renting a boat and hitting the water is a fantastic way to chill out while on vacation at Disney's Caribbean Beach. Anyone in for a Pontoon Boat Picnic?
The marina is just one fantastic activity resource available to you when staying at Disney's Caribbean Beach Resort, so next time you're booking your Walt Disney World Vacation Package give it a thought and we'll see you on the water!
Have yo always wanted to rent a boat? Why not stop by the marina on your next Orlando vacation and add some magic to a non-park day. Leave me a comment and let me know what your favorite marina rental is!