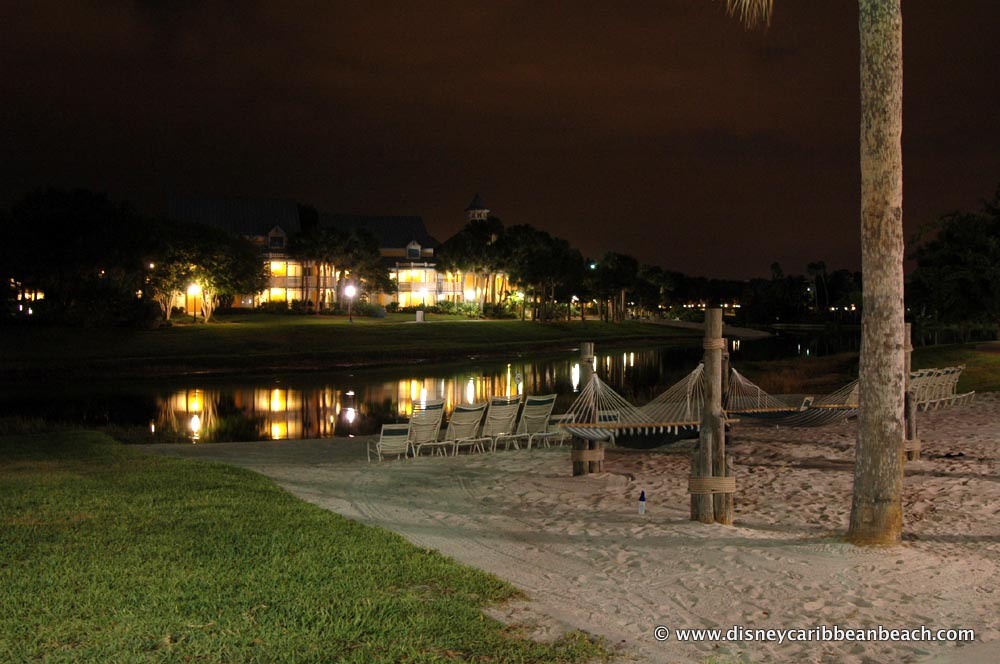 After a long day of touring the parks, you return to the resort and you're looking for something fun for the kids and relaxing for you. Sure you can always go swim or hang out in your room – but why not try something new like roasting marshmallows on the beach? Now that sounds like fun!
And at Caribbean Beach, the beach isn't just for sunning yourself during the day. Check out the campfire on the beach after the sun goes down. The campfire happens every night, weather permitting. Bring a blanket to sit on and gather 'round the campfire for stories, sing-alongs and yummy treats! Cast members will have marshmallows for roasting, and you can also purchase s'mores kits from the Calypso Trading Post if you really need a sweet treat. Check the activity calendar for a full listing of campfire times and events.
In addition to the nightly campfire, Caribbean Beach Resort is also one of the locations for outdoor movies at Walt Disney World Resorts. On select nights during the week, you can watch a classic Disney while relaxing under the stars. The location has traditionally been outside Old Port Royale, but make sure to check the resort's calendar of events for exact days, times, and locations.
S'mores, campfires on the beach, and movies under the stars – sounds like a perfect way to end a day at Caribbean Beach Resort!
Do you love Disney's Caribbean Beach Resort? Join fellow fans over on our facebook fan page and follow us on our twitter feed @DisneyHotelsFan!