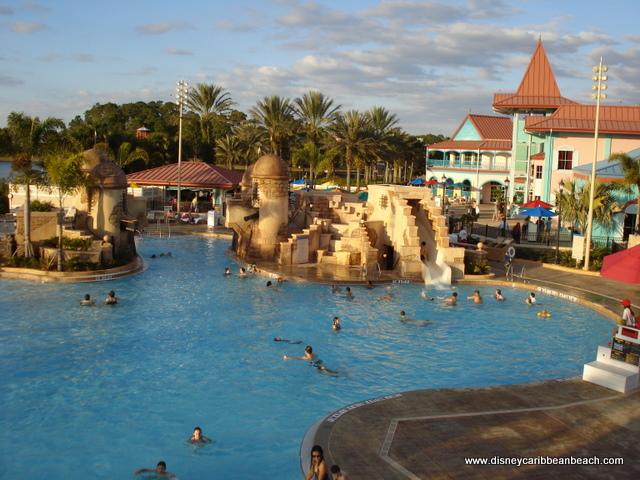 One of the most popular Disney World hotels, the Caribbean Beach Resort has a lively and vibrant atmosphere reminiscent of far-flung tropical locales. This inviting resort promises a fun-filled vacation of sand, sun and surf and has eclectic décor and themes that keep guests coming back.
The pirate rooms at Disney's Caribbean Beach Resort are one of the most exciting experiences of the resort. These specially decorated rooms feature ship-themed beds with bedspreads decorated with gold coins and gemstones. The rooms are also decorated with other various pirate-themed accessories and décor, perfect for children and adults alike.
There are also several standard guest rooms themed after Disney's film Finding Nemo. The bedspreads are decorated with Nemo, Dory, Crush and Gill while a Finding Nemo-themed border runs around the topmost portion of the room. The final touch are the wavy blue curtains that hang from the windows, helping guests feel even more immersed in Nemo's world.
All of the resort's guest rooms are also arranged into villages, which are named for various Caribbean Islands – Trinidad North, Trinidad South, Martinique, Barbados, Aruba and Jamaica. The buildings are charmingly pastel-colored, and each building has its own swimming pool. The villages also surround Barefoot Bay, a gorgeous white-sand beach.
Another charming touch is Old Port Royale, the "hub" of Disney's Caribbean Beach Resort. This area houses restaurants, shopping, a lounge and the Concierge Desk. Old Port Royale also features an expansive food court themed after a small Caribbean town.
Even the resort's pool complex has its own distinct theme – it's shaped like a Spanish fortress with towers, antique cannons and a waterslide.
The tropical-inspired décor and themeing of Disney's Caribbean Beach Resort offers an exciting way to spend a Disney vacation, and continues to be popular among tourists who just want to get away from it all.
Do you love Disney's Caribbean Beach Resort? Join fellow fans over on our facebook page and follow us on our twitter feed @DisneyHotelsFan.