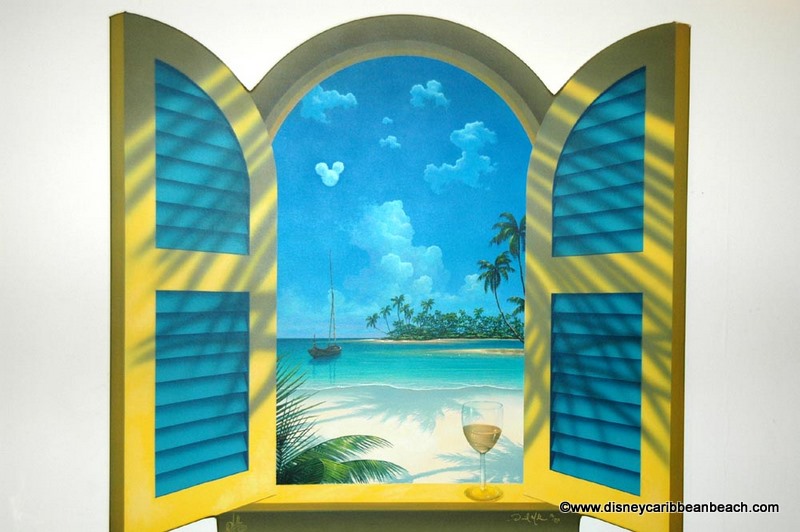 Are you a Hidden Mickey hunter? There a a lot of great Hidden Mickeys at the Caribbean Beach Resort. Here's a few of our favorite Hidden Mickeys to hunt for at Caribbean Beach!
1. Pirate Ship Mickey. Check out this Hidden Mickey at the new children's water play area, on the helm of the pirate ship, near the wheel.
2. Shutters Restaurant Cloud Mickey. As seen in the photo to the right, a Hidden Mickey is seen in the "sky" of this wooden painting in the restaurant.
3. Coat shelf in rooms. Look for upside-down Hidden Mickeys on the braces of the coat shelf, above the blanket chest in each resort hotel room.
4. Utility cart. One family spotted a Hidden Mickey on the utility cart of the Mousekeeping staff.
5. Lighthouse. Behind Old Port Royale, look for the "Barefoot Bay Boat Yard" sign on the side of the lighthouse near the bike racks.
These are just a few of hidden Mickeys that can be found throughout the Caribbean Beach Resort. Check out hiddenmickeys.org, hiddenmickeysguide.com and Steve Barrett's Hidden Mickey blog on allears.net for more Caribbean Beach Hidden Mickeys.
Do you love Disney's Caribbean Beach Resort? Join fellow fans over on our facebook page and follow us on our twitter feed @DisneyHotelsFan.