One of the hottest topics around Disney's Caribbean Beach Resort is the addition of the Pirate Rooms. These newly renovated rooms decorated to please any Captain Hook, Sparrow, or Smee wannabes have caused a lot of flurry, but also a lot of strife as guests-to-be consider whether or not they should book a pirate-themed room, or stick with the standard Finding Nemo-themed rooms.
We hope to shed a little light with our Pirate Room Pros and Cons List: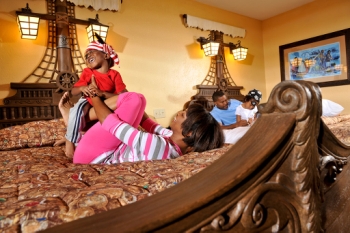 Pro: The pirate rooms are newly renovated. Everyone knows that the best rooms in any hotel are the ones most recently re-done, and these are most certainly the newest!
Con/Pro: The pirate rooms are pirate-themed. I know, seems like a dumb thing to mention, but, frankly, some folks may not be thrilled about the idea of spending their tropical Caribbean vacation in a room with dark wood, "wood"-carpeted floors, and a Jolly Roger smiling back at them from the bathroom! That said, for some, the pirate themeing is a dream come true and a childhood fantasy made reality!
Pro: The pirate rooms are a unique vacation experience. Disney World is known for providing a magical, immersive experience, and if you're looking for 24-hour immersion in the Disney Magic, the new pirate rooms are one of the best places in Disney World to make that happen! Your next best bet is probably the Cinderella Castle Suite, and if you find an in there, please share your secret 😉
Con/Pro: The pirate rooms are a trek from Old Port Royale. Located in the Trinidad South section of CBR, the pirate rooms are about a 5-10 minute walk from the central dining and theme pool area of the resort. If this is a con for you, it's probably the biggest con for you about the pirate rooms. However, some folks really enjoy the distance from the activity and find being far from the hustle and bustle to be very relaxing.
Con: The pirate rooms cost more. Pirate rooms cost about $25 more per night than the regular standard rooms on property, so over the course of a week's vacation that can really add up. Of course, you might not be able to put a price tag on how much your little pirate or princess loves staying there!
As you can see, there are definitely a wealth of pros and cons to staying in Caribbean Beach Resort's pirate rooms! Ultimately, I've heard great reviews about the rooms; but some folks decide that the extra cost and distance just isn't for them.
Have you stayed in a Pirate-themed room at CBR? What did you think? Would you recommend them to others? Let us know in the comments section below, or join the conversation over on our facebook and twitter pages!
This post is part of the DisMarks Disney Blog Carnival, which features dozens of great Disney-related articles from new and established bloggers.