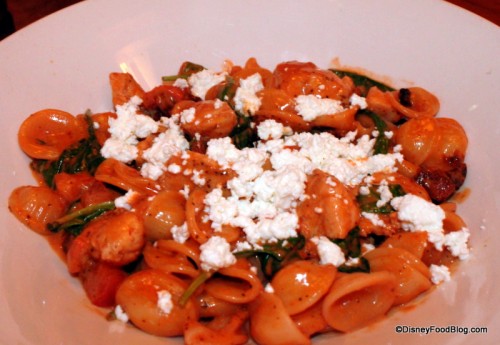 When I'm sitting at home wishing that I was really on a Walt Disney World Vacation, I frequently turn to inspiration from the Disney Chef's to decided what to make for dinner. When I want a hearty pasta dish to fill tummies and share a little extra magic, Caribbean Pasta from Shutters at the Caribbean Beach Resort is a fantastic choice.
Ingredients:
1 ounce Red Peppers
1 ounce Green Peppers
1 ounce Diced onions
1/4 ounce Jalapenos
2 ounce Heavy cream
1 ounce White wine
1 ounce Tomatoes
4 ounces Chorizo Sausage
¼ ounce Cooking oil
.25 ounces Goat cheese (per serving)
1 ounce Spinach
4 ounces Cooked Orechiette Pasta
Want to Plus this Dish?
Try adding 6 pieces Shrimp or 5 ounces Chicken Breast per serving to make it even more of a meal.
Method of Preparation:
In large pan, bring water to a boil and add 4 ounces of Orechiette Pasta
Cut vegetables (small diced red, green, and jalapenos peppers, and onions) (medium diced
tomatoes and Chorizo sausage)
In hot sauté pan, add oil, onions, peppers (red, green and jalapenos) and cook until tender
Add your meat of choice
Deglaze with white wine
Add heavy cream and add pasta, tomatoes, and spinach
Sprinkle with goat cheese to finish
Thanks so much to the Disney Food Blog for giving us exclusive permission to use their image of this fantastic dish! If you'd like more information about it, why not head on over and read their latest Review of Shutters at Disney's Caribbean Beach Resort. I'll give you a preview, Caribbean Pasta was their favorite of the night!
Have you tried this while on vacation at the Caribbean Beach Resort? Leave a comment and let us know how you enjoyed it.