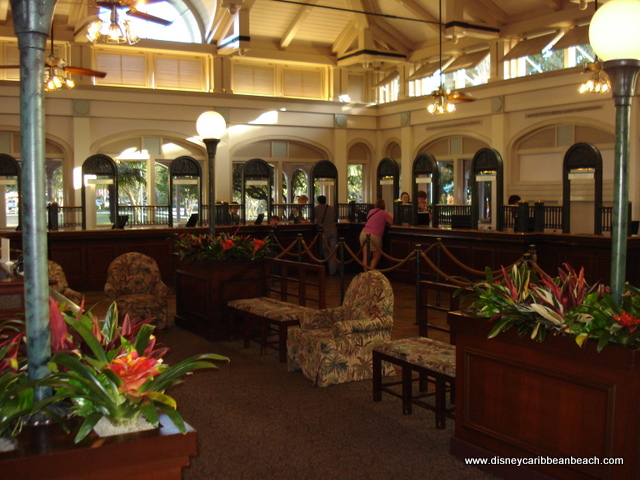 UPDATE 1/2013: Online Check-in is now available 60 days in advace of your reservation date.
No matter who your family is, there is one thing that everyone staying at Disney's Caribbean Beach Resort has in common. They must all check in for their stay. It's a simple act, that guests will incur but none the less can sometimes cause stress amongst travelers. Disney strives to make the check in at your Walt Disney World Resort Hotel as simple and easy as possible.
Disney offers online check-in through the Walt Disney World Resort website starting 10 days in advance of your stay. During Online Check-in, you will be asked to confirm a few important details that are needed for your arrival and resort stay. This is the same information that you are generally asked when you check in at your hotel's front desk.
Leave a credit card to be used for room charges
Confirm arrival and departure times
Confirm your address
Leave a phone number that you can be reached at during vacation
Confirm the names of all guests
Confirm your room requests
Review and agree to the registration terms of service
Upon arrival in Florida, standard check-in time is at the Caribbean Beach Resort is 3 pm, and can be done at the Custom House. If you have gone through the online check in process you will only need to show an ID and the guest services staff will hand you a key to your room. If you haven't completed early check in, you will need to give that information then.
If you arrive prior to the 3 pm check in time, stop by the resort's front desk and let them know that you have arrived. If a room is not yet available for you, store your luggage with Bell Services Desk. Once free of luggage you can hang out at your resort and use the main pool (lockers & changing areas are poolside), or you can head straight to a theme park and get your Disney vacation started!