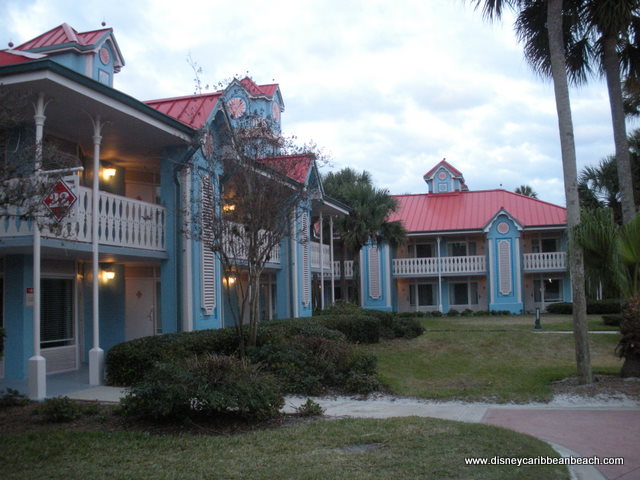 We recently asked the Disney Caribbean Beach Facebook community, "When you're at CBR, do you prefer to stay closer to the bus stop or the beach?"
While some told us which they prefer, others shared specific buildings and areas that they love. Here's what our fans shared with us.
Ronnie M., Nancy G. and Annie D. agree that they would rather stay near the beach!
Jessica M., Sara S., Susan C., Jenni G., and Donna K., say they would rather be near the bus stop.
Alicia S. said, "Either one! Because no matter where you stay there all around it's beautiful and relaxing."
But many others said they would rather be near Old Port Royale with the food court and main theme pool. Count Kim W., Sherri P., Jaizah M., Oliver P. and Sherry B. among the Old Port Royale crew.
The conversation then veered off a bit as folks shared some of their favorite areas to stay at Caribbean Beach Resort. Here's their favorites:
Martinique:
"Martinique section 26 is the best place to stay, close to Old Port Royale and the bus stop." -Jeffrey G.
"I loved Martinique 25…lake view and close to the bus stop!" -Krista G.
"I loved Martinique 24. Awesome spot. Not far from anything." -Susan W.
"I was very happy with Martinique 26. Close to beach, bus and Old Port Royale!" -Christine Q.
"Martinique Building 23…close to Port Royal AND Bus Stop!" -Lindsy C.
"Martinique building 25 right by Port Royale & the bus stop. It's a 2fer!" -Shelly P.
Barbados:
"We stayed at Barbados building 12. I really liked it there. We were just a short walk to the food court and main pool. There was a beach area beside our hotel. Bus stop wasn't too far from our room." -Lynda L.
Trinidad South:
"We loved the pirate rooms! The small pool was right outside and so was a beach. Are there more than one beaches? We walked to the big pool from the room within minutes and the bus stop was yards away as was laundry. I thought it was great." -Sheila F.
Jamaica:
"Jamaica 45 and 46 was 2 great locations by the bus and beach!" -Dawn O.
"Jamaica 45 – fantastic location. Really close to bus stop, always dropped off 2nd on the way home from the parks, close to beach and a short walk across the bridge to the food court. We LOVED it!" -Carol W.
"I requested Jamaica 45. It seemed like a great location. Thanks Carol for letting me know I made the right choice!!!" -Jennifer C.
Jamaica or Trinidad South. Jamaica is near the island/footbridge and Port Royal. Trinidad South is all by itself and secluded, and has a bus stop right in front of it." -Joe S.
Aruba:
"Aruba 54,55,56. Bus stop is thirty yards and the food court is a 5 minute walk over the bridge!!!!!!" -Sig B.
Where you do prefer to stay at Caribbean Beach Resort? Closer to the beach, or closer to a bus stop? Or do you have another place that you prefer? Leave a comment below!
Do you love Disney's Caribbean Beach Resort? Join fellow fans over on our facebook page and follow us on our twitter feed @DisneyHotelsFan.