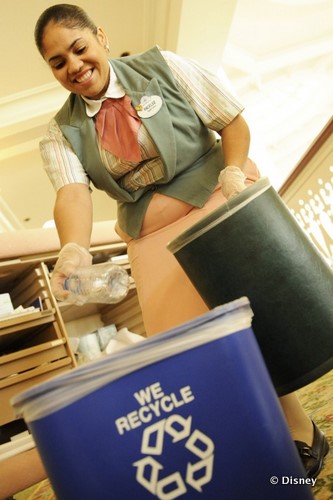 Today more than every, the tourism industry is looking at ways to become more sustainable, and more and more travelers are looking to continue sustainable habits while on their Orlando Vacations. Since 2006 Disney's Caribbean Beach Resort has been Certified by the State of Florida as "Green Lodging".
Florida's Green Lodging program is a leader in the hospitality industry, "launched in March 2004, the Florida Green Lodging Certification Program establishes environmental guidelines for hotels and motels to conserve natural resources and prevent pollution."
"Environmentally-friendly features at these three properties include low flow showerheads and toilets in guest rooms and other water conservation measures; energy efficient lighting and appliances; improved indoor air quality through proper air conditioner maintenance; composting of food waste; and recycling and reuse opportunities. The hotels also provide employee training to encourage recycling and resource conservation."
One of the fun ways that Disney adds to sustainable tourism is through it's partnership with 'Clean the World'. This Florida based organization "collects, sanitizes and repackages unused, discarded hotel soaps and shampoos." After they're cleaned and repackaged, the products are then distributed in poverty-stricken nations across the globe. In the two years since Disney partnered with 'Clean the World', they have collected over 33 TONS of toiletry items for distribution. Not only does this program help to provide sanitation and hygiene, but it reduces waste by reusing containers and keeps the excess out of landfills.
Disney's Environmentality™ programs provide a of remaining commitment to Walt's legacy of care and concern for the environment. Today all of the hotels at the Walt Disney World Resort carry the Florida State Green Lodging certification and participate in numerous initiative to reduce, reuse, and recycle across the properties.
When you travel, are you more likely to choose an Orlando Hotel if it's Green Lodging Certified? What does it mean to you that Disney strives to maintain sustainable conditions in it's community and environment? Leave a comment and let me know!
This post is part of Disney Blog Carnival #46
Blog Carnival For all the latest in Disney News & Views!