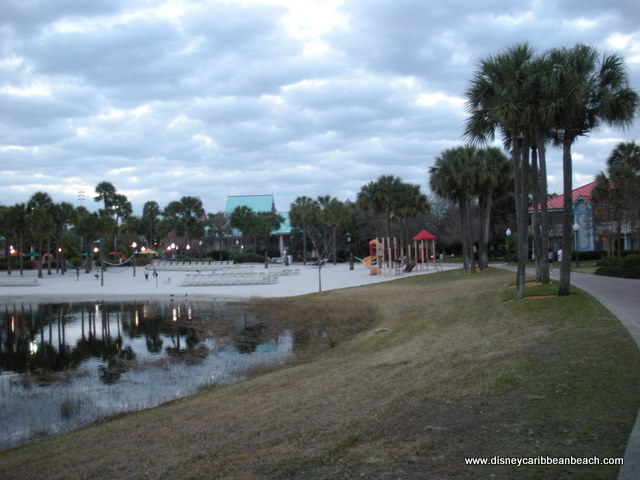 This summer is being touted as the "Coolest Summer Ever" at the Walt Disney World Resort so it only seems fitting to talk about the best ways to stay cool during your stay at Caribbean Beach Resort!
Of course, the obvious choice for most guests is to visit one of the pools at the resort. The main theme pool – the Fuentes del Morro Pool – is one of the best pools on property (in our humble opinion!).
The zero-entry pool is almost a mini water park complete with two water slides, shooting water cannons, and a special area for the younger kids that features a huge wading pool, aqua play area with squirt hoses, a huge bucket that drops water from above, and three kid-sized slides.
You're sure to keep cool at the pool! And if you get thirsty make sure you stop by the Banana Cabana Pool Bar for a tropical "adult" beverage.
If you're looking for a quieter pool experience, don't forget that every village has its own quite pool area. You won't find any water slides, but they're still a fun place to swim.
Since we are talking about Caribbean Beach Resort, we have to give some love to the beaches! What's not to love about white, sandy beaches that make you feel as if you're relaxing the day away on some tropical island? Each of the villages at CBR has a beach on Barefoot Bay with lounge chairs, hammocks, and sand volleyball nets. Just keep in mind that there is no swimming allowed in Barefoot Bay.
When relaxing at the beach, our favorite spot to chill out is in a hammock, swaying gently as the warm tropical breeze blows through our hair while sipping a frozen concoction of some kind. Some of the best hammocks at the resort can be found over at Caribbean Cay in the middle of Barefoot Bay. It's the best way to kick back and relax after a long, hot day in the parks.
And if you're looking for some cool indoor fun you can always stop by the Goombay Games Arcade for a while. (This is also a great place to spend a rainy afternoon). Kids of all ages will have a blast!
What's your favorite way to keep cool at Caribbean Beach Resort? Let us know in the comments.
Do you love Disney's Caribbean Beach Resort? Subscribe to the monthly Disney Hotels Fan newsletter! Join fellow fans over on our Facebook fan page and follow us on our Twitter feed @DisneyHotelsFan!