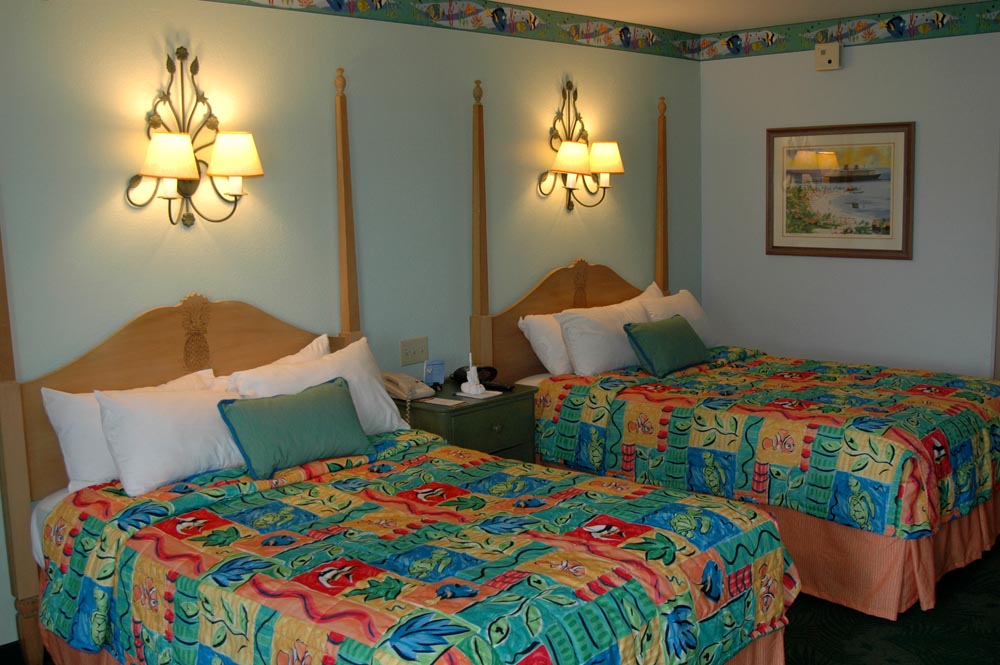 With room renovations completed at Caribbean Beach, all rooms can now be categorized as "Nemo" or "Pirate." Standard "Finding Nemo"-themed rooms are located in the villages of Trinidad North, Martinique, Barbados, Aruba and Jamaica, while the upgraded Pirate of the Caribbean-themed rooms are located in the village of Trinidad South.
The pirate-themed rooms will set you back an extra $25 per night, but many say they're worth it. Over at our Facebook fan page, Lisa C. told us that her son LOVED the pirate-themed room. Kenny N. said, "My 10-year-old loved it too!"
Summer C. said the pirate room is the coolest room she has ever stayed in. "Very well themed!" she added. Constance D. agrees. "Awesome theming. It's like sleeping at POTC!"
But Suzy G. points out that the furniture is bulky in the pirate rooms. "I like POTC but you loose space with the bigger furniture," she said.
And even though they're standard rooms, the Finding Nemo-themed rooms are still a lot of fun.
Sarah S. said she prefers Nemo rooms "because they are not too childish and yet… are still able to bring that Disney touch to the room. No over doing it."
Denise G. and Dawn O. said they prefer the Finding Nemo-themed rooms because they're very colorful.
Diane D. Also likes the colorful theming and likes that they are "closer to the Port Royal and the pool." Lynda L. says, "The pirate rooms are too far away from everything."
So which do you prefer — the standard Finding Nemo rooms, or the Pirates of the Caribbean-themed rooms in Trinidad South?
Do you love Disney's Caribbean Beach Resort? Join fellow fans over on our facebook page and follow us on our twitter feed @DisneyHotelsFan.