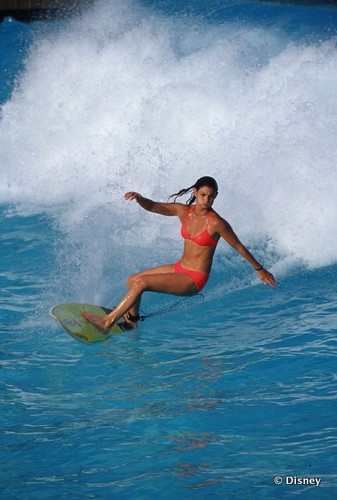 The shores of Barefoot Bay make for a beautiful, peaceful atmosphere of tropical delight. You can stroll a path around the lake, rent a boat, or just swing on the breeze in a hammock. It's a relaxing way to spend the day at the Caribbean Beach Resort.
But if you've ever visited Disney's Castaway Cay, you know that there's a little more motion in the ocean of a real Caribbean beach. How can you find that water based adventure at this land locked beach resort? Never fear! The fine folks at Walt Disney World have come up with a way that you can get some of that churning ocean excitement just down the road a bit, because at Disney's Typhoon Lagoon, Everybody's Gone Surfin'.
Craig Carroll's Cocoa Beach Surf School has set up camp at Typhoon Lagoon for the summer and guests are invited to make a reservation to learn from professional surfers how to cut, carve and "hang 10″ in the water park's 2.75-million-gallon wave pool. If you've always dreamed of catching a wave this is the perfect opportunity to take a chance and participate in this 2.5-hour program available on select mornings before the park opens. Your Disney vacation just got a little more exciting, didn't it? I know mine did!
Every 90 seconds, the world's largest wave machine will blast out a wall of surf that can tower up to six feet high. With your pro on point you'll learn the basics and get a taste of this exciting sport! Relax when your dead, Disney's gone all out to create an exciting program of ocean sport just for you. Surf School is open to guests ages 8 and over by reservation only. The cost at time of publication is $150 per person. Call 407/WDW-PLAY for more information.
What do you think? Will you be grabbing a board and hittin' the waves on your next vacation?