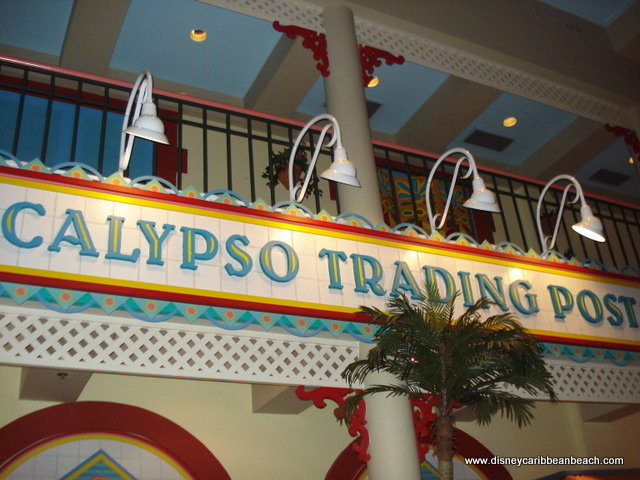 As we head straight into the holiday (shopping) season it seemed like a good time to visit the Calypso Trading Post and Straw Market at Disney's Caribbean Beach Resort.
These shops are located inside Old Port Royale Centertown – the Straw Market is just outside the food court area and the Trading Post is next door.
If you're looking for resort-themed merchandise during your Caribbean Beach stay, this is the place to find it! The shelves are full of T-shirts and other clothing items like sundresses and hats, in addition to quite a bit of standard Disney merchandise (ear hats!).
Is it your last day and you forgot to buy that "must-have" item at the parks? It's a good bet that you'll find it (or something similar) in the Trading Post or Straw Market.
And if you want something truly unique as a souvenir, we recommend purchasing a a coconut postcard! It's a REAL coconut and you can really mail it back home to friends or family. They retail for about $20 or so. Talk about a cool souvenir.
You'll also find sundries, some food items, and first-aid items including bandages and the always needed moleskin. If you left home without something essential, odds are you'll find it here.
Just remember – if you flew to Walt Disney World and plan on purchasing a snow globe at the gift shops, you'll need to have it shipped home OR you can pack it in your checked luggage. (But really, who wants to do that?) No snow globes are permitted in carry-on bags.
What's your favorite go-to item to purchase at the Calypso Trading Post and Straw Market? Leave us a comment and let us know.
Want to know more about the Calypso Trading Post and Straw Market? Check out photos of Calypso Trading Post and Straw Market in our photo galleries.
Do you love Disney's Caribbean Beach Resort? Subscribe to the monthly Disney Hotels Fan newsletter! Join fellow fans over on our Facebook fan page and follow us on our Twitter feed @DisneyHotelsFan!