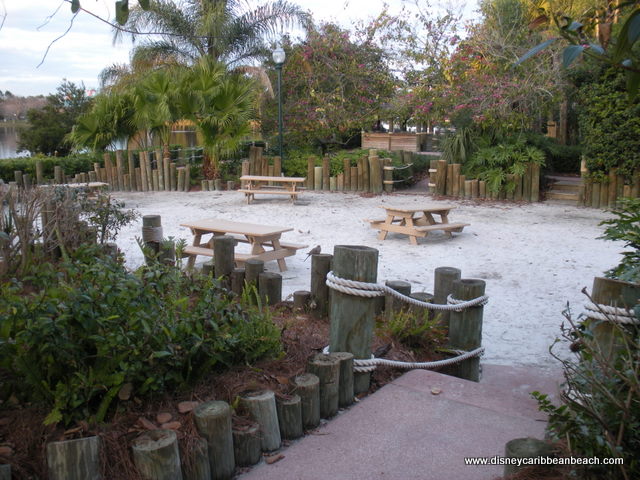 It's been a long, cold winter and if you're headed to the Caribbean Beach Resort this spring there are plenty of outdoor activities at the resort. These are just a few of our favorites.
5. Take a walk or jog around the Barefoot Bay promenade –This 1.4 mile path is perfect for that early morning jog or evening walk. It's quiet and peaceful and the view can't be beat. Plus, it's a good way to keep your "Disney legs" ready for another day at the parks.
4. Rent a bike – Stop by Barefoot Bay Boat Yard and Bike Works where you can rent a regular bicycle for a ride around the promenade, or take the whole family in a four-seat Surrey Bike.
3. Enjoy a picnic at Caribbean Cay – If you need a break from the springtime crowds at the parks, head back to the resort for lunch, grab some eats from Market Street, and find a picnic table at Caribbean Cay for a low-key and relaxing lunch. After lunch the kids can have some fun on the playground.
2. Relax in a hammock – You'll find hammocks on the beaches around the resort, and since there's no swimming at the beach we think relaxing in a hammock while the kids play in the sand is a great idea. You'll need your energy for the parks later!
1. Swim! – Spend your afternoon at the Olde Port Royale Pool. This is one of the best pools on property and features a zero-depth entry, shooting water cannons, two water slides, and an aqua play area for the little kids. The grown-ups can relax in one of the Jacuzzi spas.
What is your favorite outdoor activity when you're staying at Caribbean Beach? Leave us a comment and let us know!
Do you love Disney's Caribbean Beach Resort? Join fellow fans over on our Facebook fan page and follow us on our Twitter feed @DisneyHotelsFan!