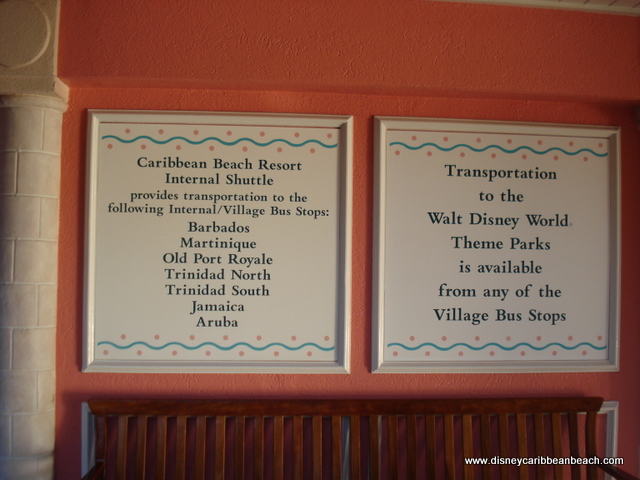 Caribbean Beach Resort is one of Disney's biggest hotels, but there are plenty of ways to get across and around Barefoot Bay.
BUS STOPS
Resort bus stops are located here:
Old Port Royale Centertown
Trinidad North: by building 33
Trinidad South: by building 36
Jamaica: by building 46
Aruba: by building 56
Custom House
Barbados: by building 13
Martinique: by building 23
INTERNAL TRANSPORTATION
Disney runs internal transportation buses between the villages, Old Port Royale, and the Custom House. Each village has its own bus stop.
THEME PARK/OTHER TRANSPORTATION
As always, there are plentiful Disney Transport buses running to and from the Disney theme parks about every 20 minutes (usually more often). These stop at OPR and all village bus stops. The "first stop" can be either Martinique OR Jamaica, depending on the bus. This is another factor that can make those locations more preferable.
To get from CBR to other resorts via Disney Transportation, you'll need to take a bus from CBR to a theme park or Downtown Disney, then take a bus, boat, or monorail from that park to your resort destination.
Taxis are readily available. Just have the lobby call one for you if one isn't already waiting outside.