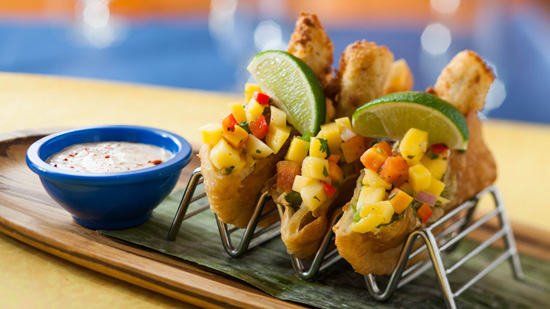 Today Disney Parks Blog did a story on the new menu at Shutters, the only table service restaurant at Disney's Caribbean Beach Resort. Chef Mike Reitzler is now heading up the team after a stint in the Caribbean it's self on the Disney Cruise Line! He's shaken up the island-inspired menu with some fresh, sweet, and spicy Caribbean flavors.
No worries though Chef Mike hasn't touched fan favorites such as the chorizo-black bean soup and the crispy chicken wings tossed in habanero-brown sugar glaze! Shutters is still open nightly at 5 p.m. for dinner. The Disney Dining Plan is accepted here.
Starters
Citrus-Poached Shrimp – tomato salsa and crispy Plantains
Chicken Wings – crispy chicken wings tossed in habanero-brown sugar sauce with a side of blue cheese
Mahi Bake – Caribbean-style fish tacos with crispy Mahi Mahi, avocado, lettuce, mango salsa, and cilantro-lime sour cream
Caesar Salad – Romaine hearts tossed in a house-made Caesar dressing with cornbread croutons
Shutters Salad – mixed greens, jiacama, avocado, tropical fruit salsa, cirtus viniagrette and goat cheese
Chorizo-Black Bean Soup – black beans simmered with Chorizo Sausage garnished with with lime cream and shallots
Caribbean-Style Rubbed Pork Ribs – Chayote Slaw and Black Jack Barbeque sauce
Entrees
Carved Bone-in Pork – Jalapeno corn pudding, green beans, piquillo peppers, corn and Black Jack Barbeque sauce
Caribbean Braised Boneless Beef Short Ribs – slow cooked in a light curry sauce, mashed yucca and yukon gold potatoes
Char-crusted 10 ounce New York Strip Steak – mashed sweet potatoes, broccolini and chimichurri
Trinidad Roast Chicken – Pelau rice, wilted greens, cherry chicken jus
Pan-Seared Chili-Rubbed Mahi Mahi Escabeche – served with Jasmine rice and cilantro-lime aioli
Today's Sustainable Fish – yucca dumplings, roasted mushrooms, peas and curry-leon butter sauce
Pasta Piquant – Shrimp, Spanish chorizo sausage, spinach, and goat cheese; with chicken or vegetarian
Desserts include
Chocolate Rum Blackberry Cake
Banana-Peanut Butter Cake
Mango Tart
No Sugar Added Angel Food Cake
Have you had the chance to sample Chef Mike's new menu? What did you think? Leave a comment and let us know!
Do you love Disney's Caribbean Beach Resort? Join fellow fans over on our facebook fan page and follow us on our twitter feed @DisneyHotelsFan!