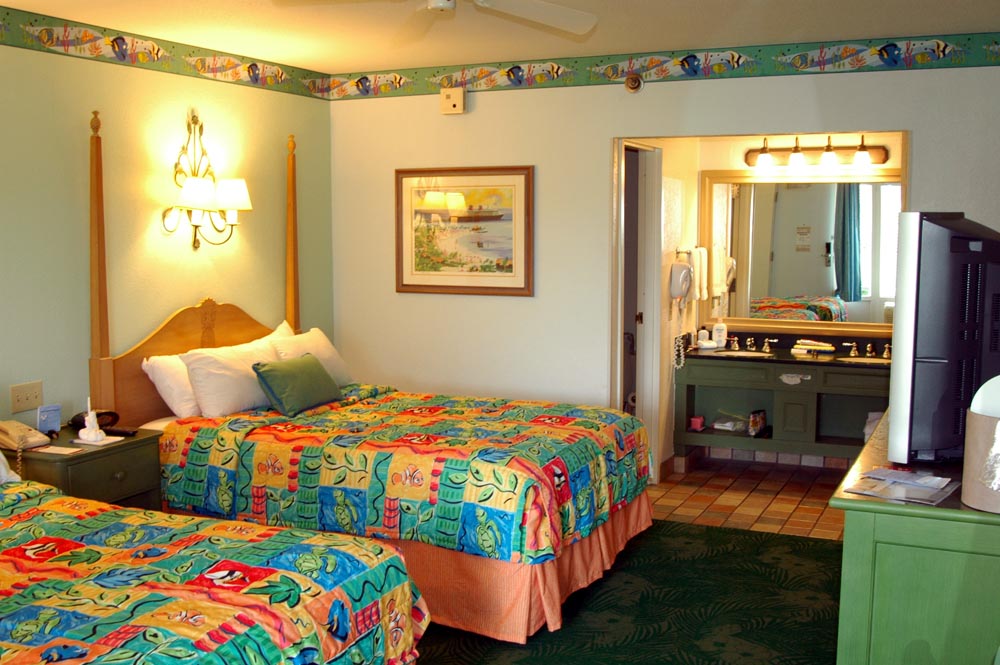 When choosing a room to go with my Walt Disney World Vacation Package, I like to gather as much information as possible about my potential room. This will be my home away from home for the week and I like being comfortable. I thought that I'd share with you what you will find inside your room at the Caribbean Beach Resort.
Disney's Caribbean Beach Resort offers 2,112 Guest rooms, located in 33 bright tropical colored buildings. Each building contains 64 guest rooms appointed to accommodate four guests and one child under three. The typical room here has about 340 square feet for you and your family to relax in. The maximum number of people in a room is four (a fee of $15 per extra adult is charged if you have more than 2 adults in a room). Wheelchair accessible and connecting rooms are available, and every effort will be made to accommodate the request.
The décor is bright and friendly, with a tropical flair. Some specialty rooms have themes like Pirates of the Caribbean or Finding Nemo, and are available for an additional charge. But what's in a room you ask?
All rooms include:
Two double beds or one king
Table and Chairs
Vanity w/ Two Sinks
Towels for four
Ceiling Fan
Cable TV/Radio
Wardrobe
Phone
A small safe for valuables (keep larger valuables with the front desk at The Custom House)
A mini-fridge (if you don't have one in your room just call guest services)
A coffee maker with complimentary coffee packets
An ironing board and iron
A hair dryer
Bed Boards or Bed Rails (available on request)
Cribs and cots (available for a fee)
High Speed Internet Access (available for a fee)
If you think that Disney's Caribbean Beach is the Orlando Resort for you, and the rooms sound great, take a browse through our room gallery, and visit our page about the full resort lay out. Then read our previous blog post about making room requests!
Do you love Disney's Caribbean Beach Resort? Join fellow fans over on our facebook page and follow us on our twitter feed @DisneyHotelsFan.