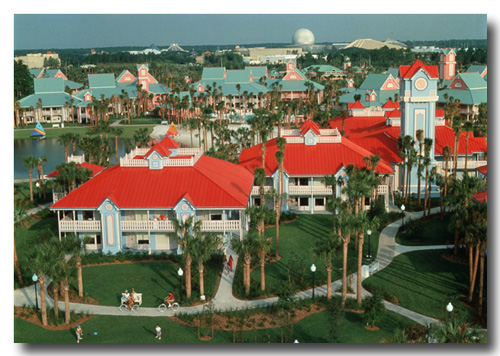 Of all the Disney World Hotels the Caribbean Beach Resort may be one of the most sprawling resorts on property. Consisting of 6 villages of clustered two story buildings surrounding a 42 acre lake. The villages are named for the islands of Trinidad North, Trinidad South, Martinique, Barbados, Aruba and Jamaica. Each village is appointed for guest comfort and offers it's own internal bus stop, quiet pool, white sand beach, and guest laundry facilities.
So then which is the best village to request for your Walt Disney World vacation? Well, that's largely a matter of personal opinion. Here are a few things to keep in mind.
Martinique is right in the middle of the action, and frequently considered the prime location for your guest room. Buildings 24, 25 & 26 closest to Old Port Royale where you'll find the Resort's dining and shopping options, as well as the main themed pool. However for some people the added noise and foot traffic that this brings may be a little too much.
Trinidad North's buildings 31, 32 and 33 also offer a fairly close proximity to Old Port Royale, but with slightly less foot traffic going through them. Martinique and Trinidad North are considered "Preferred" buildings.
For a room that's quiet and secluded you may want to request Trinidad South, or Barbados Buildings 11&16. These are furthest away furthest out from the Centertown hub and themed pool but offer a tranquil respite from the hustle and bustle of a day at the parks.
No matter what your room preferences Disney's Caribbean Beach Hotel is a delightful place to spend your vacation.