While there are lots of great activities at Disney's Caribbean Beach Resort, three of my favorites are incredibly unique and distinctly "Caribbean!"
1. Send a Coconut Back Home
You might think I'm crazy, but you really can mail a coconut postcard back home to your loved ones. And this isn't just a postcard made out of coconut fibers — it's a real, honest-to-goodness coconut!
These are usually available right outside the Calypso Trading Post and Straw Market, but if you don't see them, be sure to ask a Cast Member where the coconuts are! They'll cost about $20 to purchase and send to a United States destination.
2. Stay in a Pirate-Themed Room
The brand new Pirate rooms in Disney's Caribbean Beach Resort offer an incredibly unique way to indulge the little (or big!) pirate in your family!
While just as comfortable as the other rooms at the resort, the pirate rooms offer special touches like pirate ship beds, a pirate flag curtain between the room and the bathroom area, and pirate ship lanterns!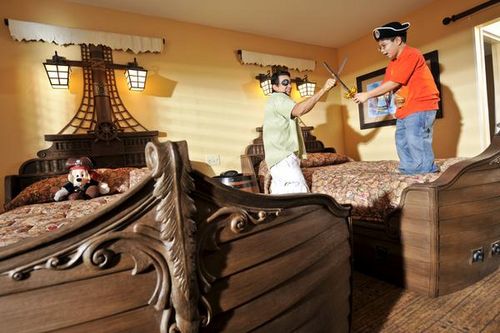 These rooms are only located in the resort's Trinidad South area, so they'll book up quickly!
3. Explore Caribbean Cay
This one-of-a-kind island in the middle of Barefoot Bay is an oasis from the hustle and bustle of the Disney theme parks.
Quiet, serene, and offering several spots for picnicing, swings for relaxing, and pathways for playing, Caribbean Cay is a great location for the harried family to grab some rest and relaxation…without waiting in any lines! 😉
The best part is, you're only a hop, skip, and jump away from Old Port Royale, where you can grab food, take a dip in the pool, or fuel up on a mai tai!