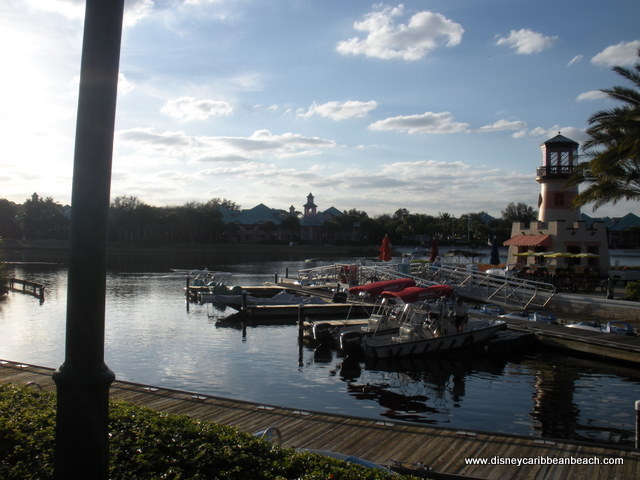 If you have a resort day planned and you're looking for something a bit more adventurous than relaxing at the pool, Caribbean Beach Resort offers guests some great activities on water and on land!
Boat Rentals – Whether you want to captain your own sailboat or take a relaxing pedal boat ride around the bay, stop by the resort's marina and check out their boat rental options. Boat rentals include pontoon boats, pedal boats, motorized boats, canoes or sailboats. No matter the speed at which you're sailing, you're sure to have a great day on the bay.
Fishing – Two-hour catch-and-release bass fishing trips are available on Barefoot Bay. Guests can reserve a boat for up to five people. The price of the session includes a fishing guide, rod and reel, bait, and beverages. Prices start at $260. Call 407-WDW-BASS to make a reservation.
Ride a bike – Not interested in sailing the high seas? Stay on dry land and take a bike ride around the resort. Regular bicycles and surrey bikes are available for rental at Barefoot Bay Boat Yard and Bike Rental. Surrey bikes are available in two and four seat versions.
Exercise – Lace up those running (or walking) shoes and go for a run or walk around the 1.4 mile promenade around Barefoot Bay. Or check out a volleyball at the marina and start a fun game of volleyball at the beachside court in Barbados Village.
Games – Stop by the Goombay Games Arcade and have some fun playing video games or air hockey. The arcade run on the Arcades Cards system and you must purchase points in order to play. Your card can be recharged during your resort stay.
What's your favorite way to spend a resort day at Caribbean Beach Resort?
Do you love Disney's Caribbean Beach Resort? Join fellow fans over on our facebook fan page and follow us on our twitter feed @DisneyHotelsFan!