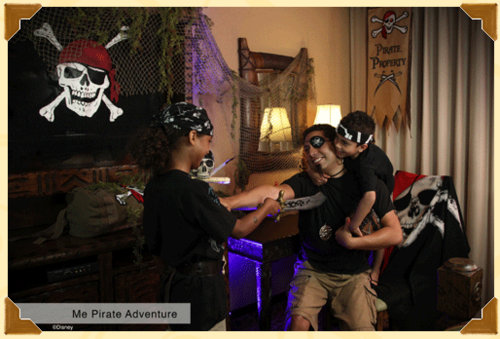 One of the best things about a Walt Disney World vacation is the immersive atmosphere that you can create for your family. Disney's Caribbean Beach resort has great rooms available for buccaneers of all sizes. But would you like to make your stay in a Caribbean Beach Pirate Room even more filled with Pirate-y Fun? Disney Floral & Gifts can help you with an In Room Celebration!
Hoist the colors high with your very own in room Pirate Adventure! Return from your morning at Magic Kingdom and riding the waves with Captain Jack Sparrow to find that he's marked your room with a mysterious glowing eye and warning to "Beware!" Sea Faring souls young and old will shiver to enter and discover that the room has been transformed. The Captain has left a note which will send you on a quest, so dig into your pirate sack and follow the riddles to find the treasure of a worthy crew.
The cost of "Me Pirate Adventure" starts at $395, and can be customized to fit your scurvy crew's needs. Just call the Dream Makers at Disney Floral & Gifts to bring this enchanted vessel to life and send you on a worthy pirate quest. Call 1-407-WDW-GIFT between 8:00 a.m. – 6:00 p.m. seven days a week. Plan ahead for this great surprise though because by the powers the sea be ours only with 48 hours notice.
Standard Pirate Adventure includes:
Pirate door banner
Motion activated skull
Note and clues from Captain Jack Sparrow
Weathered pirate flag
Skull and crossbones blanket
Pirate sword and skull sash
Treasure chest with surprises
Inside the Pirate Sack You'll Find:
Captain Jack Sparrow beaded goatee
Pirate's of the Caribbean® tattoos
Pirate bandana's, eye patch and earring
Pirate medallion necklace
Pirate candy