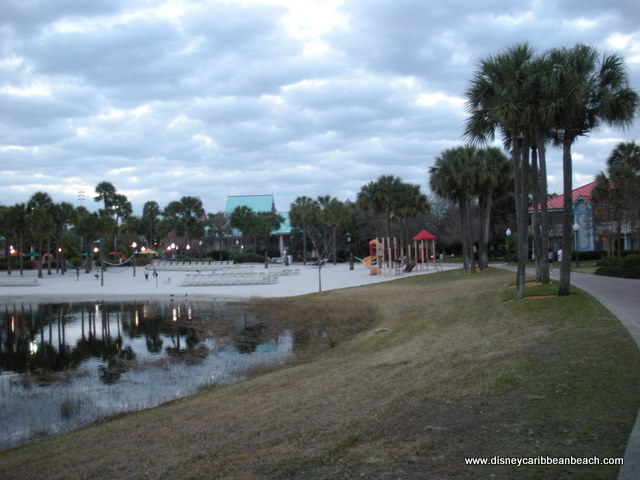 Everyone loves certain resorts for different reasons and it's no different when we're talking about Disney's Caribbean Beach Resort. There are many reasons to love this resort, but we thought it would be fun to list the top five reasons!
So here goes….
5. The Beaches – OK, this one is sort of obvious since it is the Caribbean Beach Resort. But really, what's not to love about white, sandy beaches that make you feel as if you're relaxing the day away on some tropical island? Each of the villages at CBR has a beach on Barefoot Bay with lounge chairs, hammocks, and sand volleyball nets. Just keep in mind that there is no swimming allowed in Barefoot Bay.
4. Hammocks – When relaxing at the beach, our favorite spot to chill out is in a hammock, swaying gently as the warm tropical breeze blows through our hair while sipping a frozen concoction of some kind. Some of the best hammocks at the resort can be found over at Caribbean Cay in the middle of Barefoot Bay. It's the best way to kick back and relax after a long, hot day in the parks.
3. Shutters – The only table service restaurant at the resort, Shutters is on our must-not-miss list for dining while at the resort. With its updated menu and long-time favorite items including chorizo black bean soup and chicken wings with habanero brown sugar sauce, it's a great place for dinner when you want something with Caribbean flair. Our friends at the Disney Food Blog have a great review of Shutters – be sure to check it out before your next stay!
2. Calypso Straw Market – This fun and tropical gift shop area is located in Olde Port Royale Centertown just outside the Calypso Trading Post. One of our favorite items to purchase here is the coconut postcard. It makes a great souvenir and is even more fun to send to family back home! You'll also find some CBR-themed merchandise here.
1. Pirate Rooms – Located in the Trinidad South area of the resort, these rooms are a must for any pirate fan! They are quite possibly some of the best themed rooms on property, complete with beds shaped like pirate ships, dressers that look like old shipping crates, a navigation table, and other pirate-themed artwork. The pirate rooms do cost more than the standard, non-themed rooms, but it's worth it! Ahoy, mateys!